Book Online and Save! Web SPECIALS on our Reef Tour!

December is Reefdancer's 30th Anniversary Month!
To celebrate the occasion, we're offering a special – Book online at the special price of $30 for 30 days or receive 30% off a private charter for our 30 year anniversary!
This offer applies to pricing for adults. The discount will be applied for bookings during the month of December, advance bookings included.
 Welcome Aboard!
Looking for the best reef viewing tour on Maui?
It's me! Here's why: Fish, Coral, even octopus prefer shallow water with lots of light — the deeper you go the less there is to see. So I stay on top, but you sit in my air-conditioned UNDERWATER CABIN. And even I can't tell where my underwater friends will show up, so we I have windows on both sides of the boat. 
I'll show you more on one of my tours than you can see on any other tour of any length. Here's how I do it: I have the best-trained crew around. My expert narrator explains everything to you and answers your questions. And remember, critters like eels and octopus are shy, so my divers will find some of them and bring them right to your window.
I never stay too long in one spot or wait for snorkelers, so you're always seeing something new. And since I live close to the best reef in the area, there's plenty of time for viewing.
Plus, I'm the only semi-submersible boat with windows on both sides of the boat.  If a turtle happens to be on the other side of the boat, you won't miss it.
Full time resident of the Hawaiian islands? Have a Hawaii state driver's license? Give us a call at 808-667-2133 to get our kama'aina rates and make a reservation today!
Our divers bring sea critters to your window!
Use the calendar below to select your date and book online or Call (808) 667-2133.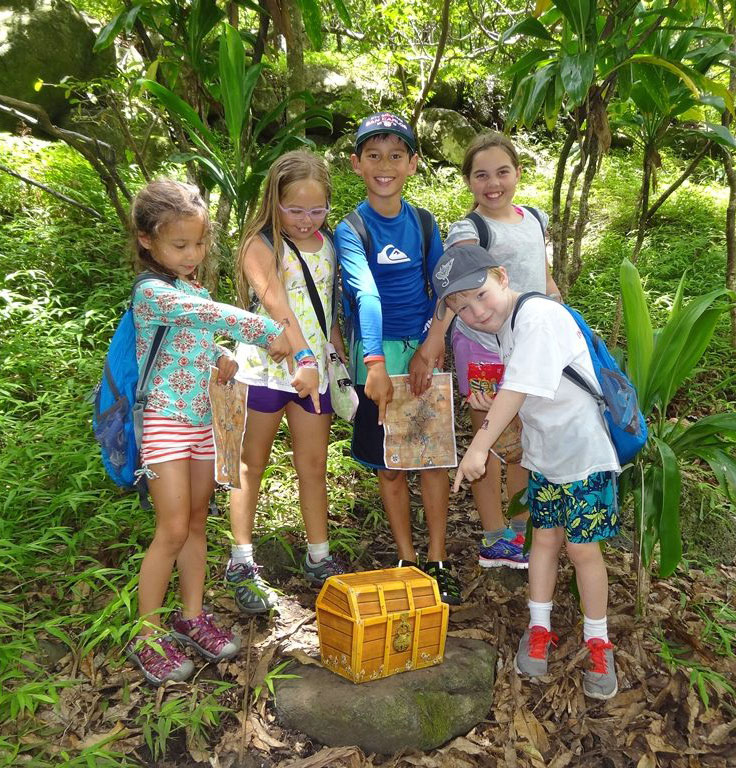 Maui is a paradise for nature lovers and adventure seekers alike – an ideal destination for families wanting to play together in the outdoors. We've created a fantastic combination of the Hawaiian land and undersea life adventure in one great package. Enjoy the wonderful outdoors of Maui on a Treasure Hunt hiking Adventure, then hop on a glass-bottom boat to explore the underwater life. We'll educate and entertain you and your children at the same time.
Trip Highlights:
Enjoy an action-packed family tour with hiking, swimming, and exploring
Swim in a lagoon or ocean, fulfill fun tasks, & search for a hidden treasure
Follow a designed map with the whole family in mind
Board a Glass Bottom Boat for Underwater Viewing Adventure & Dive Show.
Sit in front of big windows for a close-up view of the reef.
Enjoy experienced narrator & learn more about the world of Maui's reef.
Amazing Tour! Mahalo Reef Dancer Crew!
◉ ◉ ◉ ◉ ◉
Amazing experience. Friendly and knowledgeable crew. Spectacular scenes of ocean life. Great information about the sea life and the history of Maui. Boats in top notch condition. You feel safe and secure the entire time. Crew is welcoming, friendly and helpful. We are a group of 12, ranging in age from 1 to 71, EVERYONE had a great time and enjoyed every minute of the trip. Boat crew tells you all you need to know, divers bring you all you need to see, sea life is amazing, fantastic way to experience the underwater world of Maui. Highly recommended for ALL AGES!